The Chronicles of Spellborn, sviluppato da una piccola casa indipendente olandese, la Spellborn International Ltd, è atterrato un po' in sordina nei nostri PC. Complice una non esaltante distribuzione nel nostro paese, dovuta al fatto che non tutte le nazioni europee sono curate da Frogster, ma in parte dall'americana (e forse meno attenta al mercato del vecchio continente) Acclaim, dell'interessante MMO dal particolare sistema di combat, se ne è parlato meno di quanto si sarebbe dovuto.
Noi di Gamesource abbiamo chiaccherato con Pierre-Yves "Mirage" Deslandes, lead community manager di TCOS.
GS: Siete soddisfatti del lancio di TCOS?
Mirage: Sì, il lancio è andato molto bene. I server hanno reagito positivamente al carico di lavoro, e abbiamo avuto una buona risposta di pubblico. Certo, poteva essere ancora migliore, specialmente se avessimo potuto avere più scatole sugli scaffali nei posti dove TCOS è uscito. Ma pazienza, siamo soddisfatti ugualmente.
GS: Come mai c'è stato un approccio differente per quanto riguarda il lancio nelle varie nazioni europee, come l'Italia, per esempio? Perchè Frogster non ha gestito, come publisher, tutto il vecchio continente?
Mirage: Frogster è un publisher tedesco che conosce perfettamente il mercato del suo paese. Loro sono sempre stati convinti di poter fare un ottimo lavoro, ma limitatamente alle zone che già coprivano precedentemente. Non hanno voluto essere coinvolti per tutta Europa perchè, pubblicare un gioco, non è un lavoro facile (anche se Frogster in realtà per Runes Of Magic si comporterà diversamente, ndr) ed avere contatti con il mercato dove si vuole pubblicare il titolo è molto importante.
GS: Avete in mente di cambiare contenuti importanti nel gioco dopo il lancio, aggiungendone di nuovi o alterando quelli già esistenti con patch?
Mirage: Abbiamo già fatto molte cose da quando il gioco è stato lanciato! Abbiamo inserito importanti contenuti mediante due patch, come un nuovo tutorial, che spiega ai nuovi giocatori come funziona il sistema di combattimento, controllo e interazione con il titolo stesso. Ed è solo l'inizio! Abbiamo già pronta una nuova patch che introdurrà nuovi contenuti. Come puoi vedere stiamo lavorando sodo per offrire nuove cose, ma sempre con un occhio di riguardo a quanto ci segnalano i giocatori. La loro opinione conta molto per noi e la teniamo in grande considerazione.
GS: Cosa ci puoi dire del feedback che avete ricevuto? C'è qualche contenuto che non è piaciuto e che intendete cambiare a breve?
Mirage: Il feedback è molto positivo. A prescindere da qualche giocatore, il quale ci ha suggerito alcuni cambiamenti che noi stiamo prendendo in considerazione, questi amano e apprezzano il gioco. Naturalmente alcune lamentele al riguardo di bug ci sono, ma ancora una volta stiamo lavorando duramente per fissarli il più velocemente possibile. In tutto e per tutto posso affermare che il rapporto con i nostri giocatori è una relazione fruttuosa.
GS:Bilanciare i contenuti PVP con quelli PVE è sempre difficile. Come consideri la situazione di TCOS in questo momento?
Mirage: E' tutto molto ben bilanciato. Stiamo lavorando molto duramente per assicurare nuovi contenuti sia PVP che PVE per accontentare ogni tipo di giocatore, in modo da offrire loro sempre qualcosa d'interessante nel gioco. Ad esempio, abbiamo aggiunto una nuova instance con la prima patch, ed una nuova sta per essere introdotta. Al riguardo del PVP, abbiamo introdotto alcuni bilanciamenti per favorire gli scontri fra giocatori senza penalità, e stiamo lavorando alle battaglie nell'Arena. Come vedi entrambi i tipi di contenuti ci interessano molto, e ci assicuriamo di mantenerli sempre in uno stato di salute attuale.
GS: Come mai al lancio del gioco non erano presenti contenuti importanti come un Auction House o le cavalcature per i giocatori?
Mirage: Sarò onesto a questo proposito. Siamo un piccolo team di sviluppo. Avremmo amato poter aggiungere i contenuti, che hai menzionato, al momento della release del gioco, ma questo avrebbe condizionato il tempo a nostra disposizione per implementare altre feature o per renderle migliori. E' stata una dura scelta, ma abbiamo preferito concentrarci sui contenuti principali, quelli per cui Spellborn può essere riconosciuto, piuttosto che mettere troppe cose contemporaneamente. Ma comunque un mercato, simile ad un Auction House, ma senza offerte, sta per essere introdotto nel gioco.
GS: Ci saranno nei prossimi mesi cambiamenti al sistema di combattimento o al combat deck?
Mirage: No. Il sistema di combattimento, con il tempo reale, la mira manuale e le schivate sono il trademark di Spellborn, nonché la sua spina dorsale. Non abbiamo intenzione di modificare nulla, se non migliorare qualcosa dal punto di vista della grafica, come effetti o la GUI.
GS:Ci sarà la possibilità di vedere nuove razze in TCOS?
Mirage: Al momento non abbiamo alcun piano per introdurre nuove razze nel gioco. Abbiamo intenzione di espandere il gioco e l'interazione fra i giocatori in molte altre direzioni. Vogliamo che i giocatori possano influire sulle loro High House, così da poter influenzare il resto dell'Enclave. Per quanto riguarda le classi, invece, abbiamo intenzione di espandere le attuali discipline piuttosto che aggiungerne di nuove.
GS: I giocatori sono soddisfatti dalla vostra offerta trial di una zona iniziale senza limitazioni di tempo? Quale è stato il riscontro?
Mirage: E' stata accolta caldamente. Puoi giocare liberamente con la sola limitazione del livello (fino all'ottavo). La cosa migliore è che tu sei nel gioco vero, non in una sorta di versione "light" di Spellborn. Puoi vedere giocatori di alto livello correrti accanto. In più, inizi il gioco con il tutorial per imparare le funzioni base del gioco, il che rende migliore l'esperienza provata. In tutto e per tutto, è stata una scelta molto azzeccata per l'intero gioco.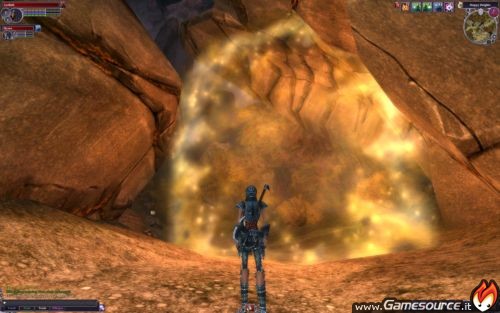 GS: Cosa pensi delle micro-transazioni in game? Sarà possibile vedere qualcosa del genere in TCOS al posto dell'abbonamento mensile?
Mirage: Ne dubito. Spellborn è pesantemente basato sulle skill e non sugli oggetti. Avere questo sistema significa avvantaggiare i giocatori che hanno più soldi da spendere di altri, e questo va contro la nostra filosofia: le stesse occasioni per tutti. Infatti, lo scopo di TCOS e il suo sistema manuale di puntamento in combattimento è quello di dare la stessa possibilità di vittoria ad ogni player, senza rifarsi a colpi critici fortuiti basati solo su calcoli percentuali. In Spellborn se la tua mira è giusta, colpisci, non importa come.
Ringraziamo Pierre-Yves Deslandes per la disponibilità dimostrata.
,
The Chronicle of Spellborn, developed by a small but surprising dutch software house, Spellborn International Ltd, is landed quite silently on our PCs, through a not perfect distribution in our country. Frogster, in fact, isn't the publisher for the whole Europe (american Acclaim serves many nations in the old continent.) So, we haven't heard much about this interesting MMO with an innovative combat system.
Gamesource told about these aspects with the lead community manager, Pierre-Yves "Mirage" Deslandes.
GS: Are you satisfied about the launch of TCOS?
Mirage: Yes, the launch of The Chronicles of Spellborn went pretty fine. Servers behaved well, and we had good response from the players. Of course, this launch could have been better, as in we could have had more boxes put into the shelves of the stores in which TCoS has been released, but nevertheless, we are happy how the launch went.
GS: Why there was a different approach about the launch (and publisher) for European countries, like Italy, for example? Why not the whole Europe has Frogster as publisher?

Mirage: Well, Frogster is a German publisher and they know their German-speaking market very well. Since they wanted to make sure they cover their market (Germany in essence) well, it is understandable they didn't want to go for the whole Europe. Publishing a game isn't an easy job, knowing and having connections in the market you want a game to be released is very important.
GS: Have you planned to altered some important features after launch, with patches (or to add something new)?

Mirage: Oh, we have been doing many things since the game is released! We already shipped 2 content patches, one of them introducing a Tutorial, which explains new players how the unique combat system of Spellborn works, as well as giving them a hand in understanding the basic controls, interactions with the game itself.
And that's just the beginning! We already have another content patch in the works, which will introduce even more new features! So you can see we are very hard at work making sure we deliver content, but also and at the same time, listening to our community of players. Their opinion matters very much to us and we always take their feedback into account.
GS: What has been the community feedback? There is a particular feature that doesn't satisfy the players and that you want to change in a short time?

Mirage: So far the feedback is very good! Besides some suggestions players are sending us and which we see whether they could make it to the game, players love and appreciate the game. Of course, some complaints about some bugs are there, but again, we work hard and fast to fix them. All in all, I can say that we have a very healthy and very fruitful relation with our players. That's great!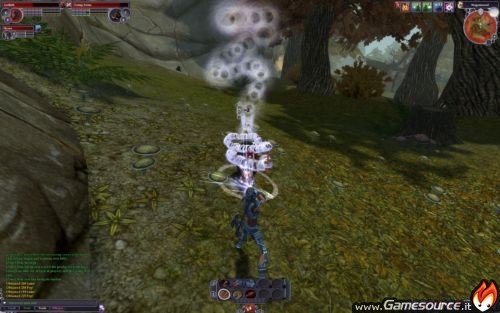 GS: Balancing PVP and PVE contents is always very difficult. How do you consider your situation right now?

Mirage: In fact, it's pretty well balanced. We are working hard to ship even more PvE and PvP content to make sure that each category of players find something interesting in the game. For example, a new instance has been added in the first patch, and a new one is being finalized. As regards PvP, we made some balancing efforts to encourage people to fight against each other without penalty, and we are also working on Arena battles. So you can see that both PvE and PvP matters a lot to us, and that we always try to make sure both are worked on in a healthy fashion.
GS: Why the game has been released without some important features like an auction house service for players or mounts?

Mirage: I am going to be honest here, we are a small development team. We would have loved to add the features you mentioned in the question in the release version, but should we have done that, it would have cost us time on developing other features or making them better. It was a hard choice to make, but in the end, it was safer and better for the game to focus on the core gameplay features, these that make Spellborn what it is, than to do too many things at once. But rejoice! A Marketplace, similar to an Auction House, but without bids, is being finalized as I speak!
GS: There will be any changes to combat deck or combat system in the next months?
Mirage: No. Combat system, with real time and manual aiming and dodging of attacks, is the trademark of Spellborn. More, it is the backbone of The Chronicles of Spellborn. We don't plan on changing it. Some improvements might be made, but that would only be on the Visual side of things, like GUI or particle effects.
GS: Could you tell us if there is the possibility to see new races in TCOS?
Mirage: At the moment we don't have any plans to add new races to Spellborn.
Rather, we're definitely planning to expand the game and the player's interactions with it in a lot of other directions. We want players to be able to influence their High house, which eventually influences the rest of the Enclave. With regards to classes, we plan to expand deeper into our current Disciplines rather than adding alternatives.
GS: Players are satisfied about your choice to offer a limited but free zone trial? What's the feedback about it?
Mirage: Well, it's very warmly welcomed! You can play the game for free without time limit, just a level (almost level 8) limitation. The cool thing is that you are in the real game, not some light version of Spellborn. You can see high-level players running around. In addition, you start the game with the Tutorial and get to understand the basics of the game, which makes the free experience even better! All in all, this Free trial zone is really nice for the game!
GS: What do you think about micro-transaction in game? It will be possible to see something similar in TCOS instead of monthly fee?
Mirage: I doubt so. Spellborn is heavily skill based (the players' skills) and not item-based.
Having micro-transaction would be like giving an edge to players that have a bit more money than others, and this goes against our philosophy: the same chance for everyone.
In fact, the goal of Spellborn and its manual aiming combat system is to give ALL players the same chance at winning, without relying on lucky critical hits that are purely randomly and percentages based. In Spellborn, if your aim is sound, you hit, no matter what.
We want to thank you Pierre-Yves Deslandes for the interview.