Un ex soldato. Dopo una simulazione di guerra nucleare, dove fu l'unico sopravvissuto, cadde in coma e si risveglio con degli incredibili poteri derivanti dalle radiazioni. Diventato un collaboratore di Dr. Destroyer, ora è un pericolosissimo villain dedito al crimine e alla cospirazione su scala mondiale.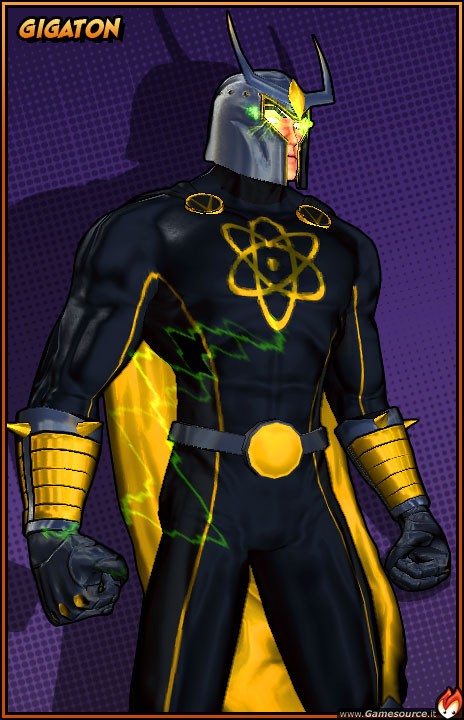 Tim Colton was not the sort of man you would ever expect to become a supervillain.
Tim Colton was an ideal soldier. Handsome, clean cut, loyal, well organized, and capable of leading a squad of men. He liked to party a little bit, but no more than any other young soldier given leave. He was also the sort of soldier who would volunteer when his superiors said it was important. Which is how his life changed completely. In the early 1990s, Tim volunteered for Project Sunburst, a war game that would involve a nuclear war scenario. What his superiors didn't tell him was that the nuclear blast would be real.
Tim was one of the lucky ones; he lived. Many of the other volunteers died that day. Some few lived on a few months more, sickening and slowly dying. A very lucky few developed unusual powers, but even many of them died over time. Tim, and two or three others like him, was merely in a coma.
The army doctors were perplexed. Nothing seemed to be wrong with him. Nothing at all. Except for the fact that he was in a coma. His body was healthy, and getting healthier by the minute! In time they realized that they didn't even need to feed him, he survived just fine on his own. He might have stayed there, in the army's "Crypt," forever if not for Dr. Destroyer.
That's right. Dr. Destroyer came to his rescue.
The wily doctor was laying low and assessing his strengths and needs when he heard about Project Sunburst. He sent his chief spy, Raksasha, to investigate. And what Raksasha found was fascinating.
Using a device of Dr. Destroyers, Raksasha was able to take readings off of Tim and the other comatose soldiers. All of them tested as having strange powers, but Tim's readings were off the charts! Raksasha took Tim's comatose body with him back to Dr. Destroyer's hideaway.
Dr. Destroyer was far more capable than any of the army scientists. What puzzled and perplexed them was easy for him to figure out. He was able to wake Tim. Naturally, he told Tim of how the army had abused him, and how Dr. Destroyer had rescued him, and offered, since Tim clearly no longer had a job, to help out by giving Tim a place within his organization. He also offered Tim the new name, Gigaton, to reflect Tim's bio-nuclear superpowers. Feeling lost and betrayed by the army, Tim willingly accepted Dr. Destroyer's offer. He found himself questioning so many of his prior assumptions about the army, and about life in general, that it was just so much easier to have a purpose and focus on that. And his purpose became serving Dr. Destroyer.
Of course, over time he came to realize that Dr. Destroyer was outright dangerous, and possibly insane. Well, when he let himself think about it. So long as he kept himself busy heading up Destroyer's security staff, completing missions for Destroyer, or focusing on his hobby trimming bonsai, he was able to ignore his unease. He also distracted himself from any niggling little doubts by appreciating the money, luxury, and ladies he's surrounded by, working for Dr. Destroyer.
But then, of course Dr. Destroyer disappeared.
About Gigaton
Gigaton never believed that Dr. Destroyer died in the Battle of Detroit. Dr. Destroyer was just too powerful and too brilliant to be caught. And they never did find a body. So Gigaton has continued holding down the fort and running security in all the years Destroyer has been gone. Raksasha has been the brains, and Gigaton has been the brawn of the operation. They're keeping Dr. Destroyer's legacy going, waiting for the day Dr. Destroyer comes back.
Recently, though, Gigaton has seemed to be a bit more active. He's been seen in the dessert, not far from the area in which there has been nuclear testing going on. Something seems to be going on, but he's not saying anything about it.