La Ndoors ci sta dando dentro e per Natale ha preparato un sacco di doni per i propri utenti.
Cominciamo con l'update più importante, ovvero l'ampliamento al nord e centro america della mappa di gioco. Potranno quindi essere esplorati Dallas, Detroit e il Messico. Sono zone per livelli molto alti e conterranno le quest per progredire nella fase finale di gioco.
Continuiamo con i due nuovi mercenari di classe B: lo spartano e la piratessa. Il primo potrà trasformarsi in Leonida raggiunto il quinto upgrade mentre la seconda potrà trasformarsi in Anne Bonny, piratessa non molto nota, almeno non a noi.
Come ogni mmorpg che si rispetti inoltre sono stati introdotti eventi natalizi per celebrare la festività. Qui trovate maggiori informazioni.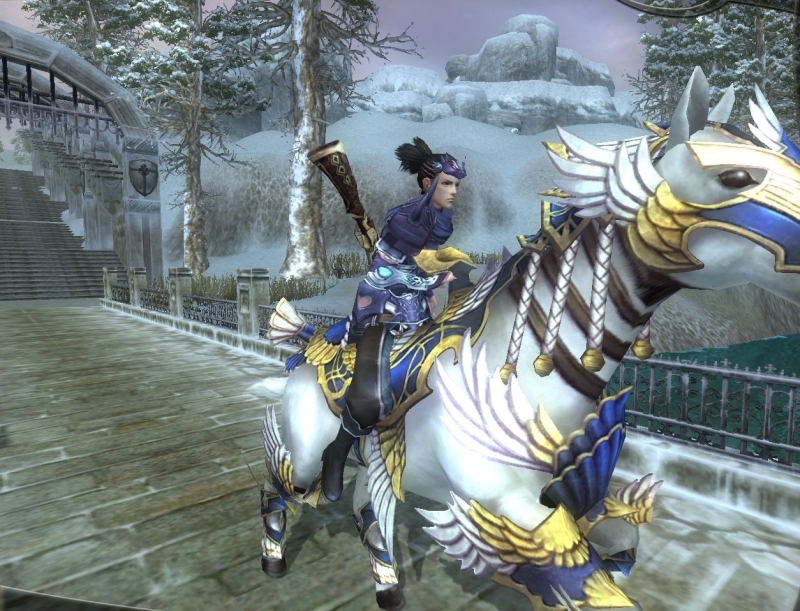 Finiamo con un corposo quantitativo di nuovi oggetti inseriti nell'item shopi. Vi riportiamo di seguito la patch note originale:
Secret Vials of Potential [Beg]
Discover the potential hidden inside you! Show your inner strength now! Convert the Skill Potential of one mercenary into Skill Points that can be taken advantage of immediately.
Notes: The mercenary must be at level 60 or above.
Tradable: Yes, can be traded.
Price for 10 vials: 199 Gcoins
Oriharukon Enhance Stone [Advanced & Premium]
Power up your equipment! Have the ability to Power Enhance your weapons, which has a greater chance of success than regular Enhancing. A successful Power Enhance can increase your gear's grade by as much as +4 in one attempt.
Notes: If the Power Enhance fails, the odds of your equipment being destroyed are low. However, your gear's enhancement gear will decrease. And the odds of success increase your next attempt.
• The [Advanced] stone can be used on any weapon or armor up to level 100.
• The [Premium] stone can be used on any weapon or armor up to level 120.
Tradable: Yes, can be traded.
Price for 10 [Advanced] stones: 499 Gcoins
Price for 10 [Premium] stones: 999 Gcoins
Holiday Spirit Package
Good tidings for you! Experience the joys of the season with Atlantica! This package includes the 30-day Warrior's Package, plus some extra goodies for you to enjoy during the holiday season.
Contents:
• Warrior's Package
– Teleportation License (30 days)
– Patrol License (30 days)
– Health Check License (30 days)
– Auto-Search License (30 days)
– Auto-Battle License (30 days)
• Extras for the holidays
– 50 Ambrosia
– 50 Scrolls of Bewitching
– 30 Scrolls of Judgement

Notes: Licenses will only be applied to the character that uses the package. For 30-day items, the time limit for that item will continue while the server is open, and pause when the server is closed for maintenance.
Tradable: The Warrior's Package licenses are non-tradable; the other items can be traded in the game.
Price: 1999 Gcoins
Holiday Box
Bringing some joy to the Atlantica world with the Holiday Box. No need to wonder what gift lies in this box.
Contents (Choose one of the following):
• 200 Scrolls of Judgement
• 200 Scrolls of Freezing
• 200 Scrolls of Life's Blessing
• 200 Scrolls of Resurrection
• 20 Power Potions
• 20 Multi-Hued Crystal Boxes (you can select from 5 types of crystals, with each box yielding 10 crystals; the Box is non-tradable but crystals are tradable)
• 5 Multi-Hued Jewelry Boxes (you can select from 5 types of jewelry, with each box yielding 10 jewels; the Box is non-tradable but jewels are tradable)

Tradable: Box is not; items inside can be traded.
Price: 1499 Gcoins
Jewel of Anastasia
Let Anastasia set you on a course for greater adventures. If the right random item pops up in this jewel of a box, Anastasia will have you riding off toward glory. You could be making your way in the Atlantica world on an Armed Snow Tiger, Armed Volcanic Raptor, or Armed Byzantine Elephant!
Contents (One of the following set of items, selected randomly):
This is a non-tradable item in the game.
Randomly obtain one of 14 item sets.
• Armed Mount Box, which will contain either an Armed Snow Tiger, Armed Volcanic Raptor, or Armed Byzantine Elephant (the Armed Mount Box is non-tradable, but contained mounts are tradable and permanent)
• 1 Permanent Hell Horse
• 5 Ancient Skill Books (the books are non-tradable)
• 20 Power Potions
• 60 Secret Vials of Potential [Beg]
• 5 Multi-Hued Jewelry Boxes (you can select from 5 types of jewelry, with each box yielding 10 jewels; the box is non-tradable but jewels are tradable)
• 20 Multi-Hued Crystal Boxes (you can select from 5 types of crystals, with each box yielding 10 crystals; the Box is non-tradable but crystals are tradable)
• 1 Jewel of Anastasia (the Box is non-tradable)
• 2 Jewels of Anastasia (the Box is non-tradable)
• 3 Jewels of Anastasia (the Box is non-tradable)
• 60 Growth Vials [Pre]
• 60 Scrolls of Bewitching [Pre]
• 120 Scrolls of Judgement [Pre]
• 120 Freezing Scrolls [Pre]
Notes:
• Hell Horse: Min. Level: 30; Vitality: +100; Defense: 2000; Movement Speed Increase: 15%
• Armed Byzantine Elephant: Min. Level: 50; Attack Power: 220-340; Vitality: +120; Defense: 2400; Movement Speed Increase: 15%
• Armed Volcanic Raptor: Min. Level: 60; Attack Power: 300-400; Dexterity: +100; Vitality: +100; Defense: 1500; Movement Speed Increase: 25%
• Armed Snow Tiger: Min. Level: 70; Attack Power: 300-400; Strength: +80; Dexterity: +80; Vitality: +140; Defense: 2500; Movement Speed Increase: 20%
Tradable: Box cannot be traded. Certain items inside can be traded.
Price: 999 Gcoins