ASUS ROG Phone II: anteprima – IFA 2019
ASUS annuncia il rilascio del ROG Phone II
ASUS Republic of Gamers (ROG) ha presentato in data odierna (4/09/2019) ROG Phone II, erede del rivoluzionario e innovativo ROG Phone, in due varianti distinte: Elite e Ultimate Version.
ROG Phone II monta a bordo una CPU Qualcomm® Snapdragon™ 855 Plus Mobile Platform (2,96 GHz Clock max), GPU Qualcomm® Adreno™ 640 (in grado di garantire prestazioni in game eccelse), 12 GB di RAM e un sistema di raffreddamento GameCool II. Il display utilizzato è un AMOLED da 6,59″ con refresh rate pari a 120 Hz, supporta la tecnologia HDR 10-bit e Delta-E <1.  Il processore Snapdragon 855 Plus supporta la tecnologia Qualcomm® Snapdragon™ Elite Gaming.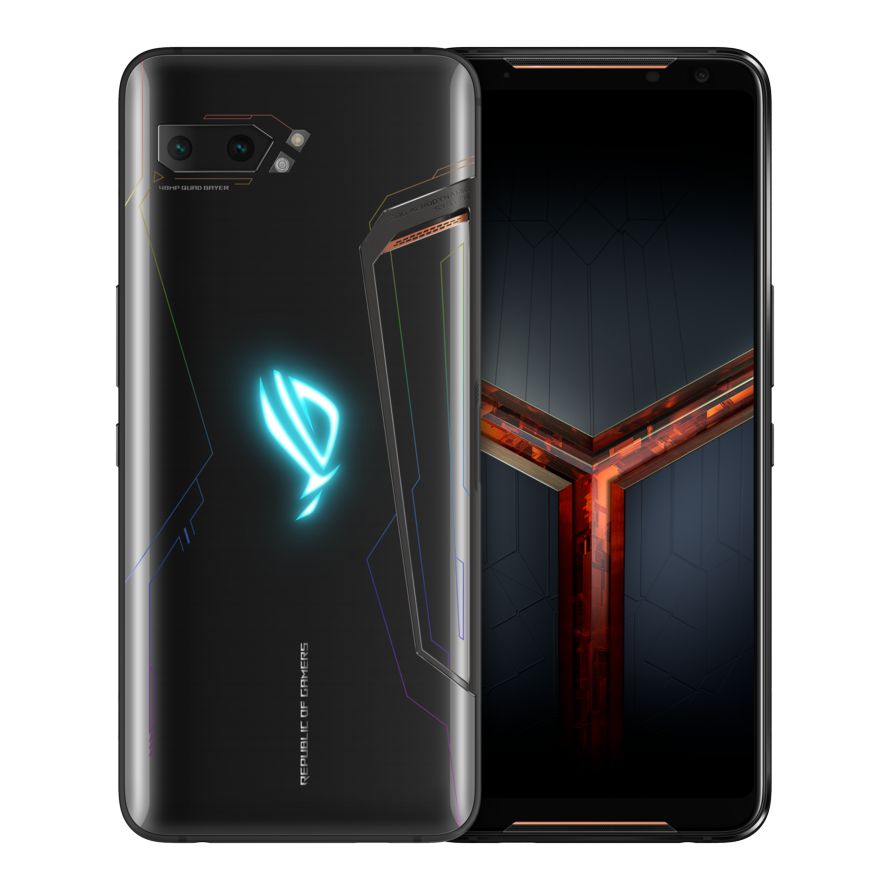 Lo storage nelle versione Elite version raggiunge la capacità di 512 GB UFS 3.0, mentre nella versione Ultimate lo storage giunge a una capacità di 1 TB UFS 3.0. La connettività è gestita da un modulo 4G LTE Cat 18 1.2 Gbps nella versione Elite Version e da un modulo 4G LTE Cat 20 2 Gbps nella versione Ultimate Edition. Il tempo di latenza è pari a 49 ms, in grado di garantire immediata reattività.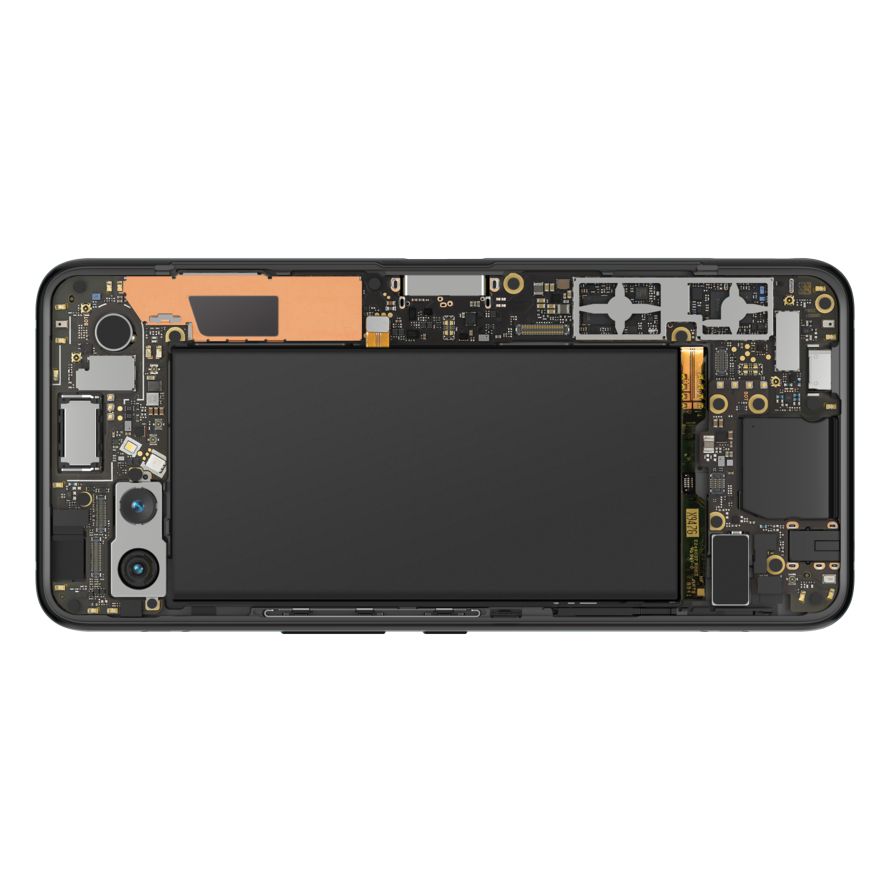 La batteria utilizzata è da 6000 mAh, grazie al caricatore ROG GyperCharge vi è la possibilità di effettuare una ricarica sicura e veloce. Vi sono varie feature integrate come i sensori ultrasonici AirTrigger II, sistema di vibrazione dual surround e potenti altoparlanti stereo frontali. Il jack audio 3,5 mm è presente, in tal modo da giocare con lo smartphone sotto carica con cuffie/auricolari collegate/i.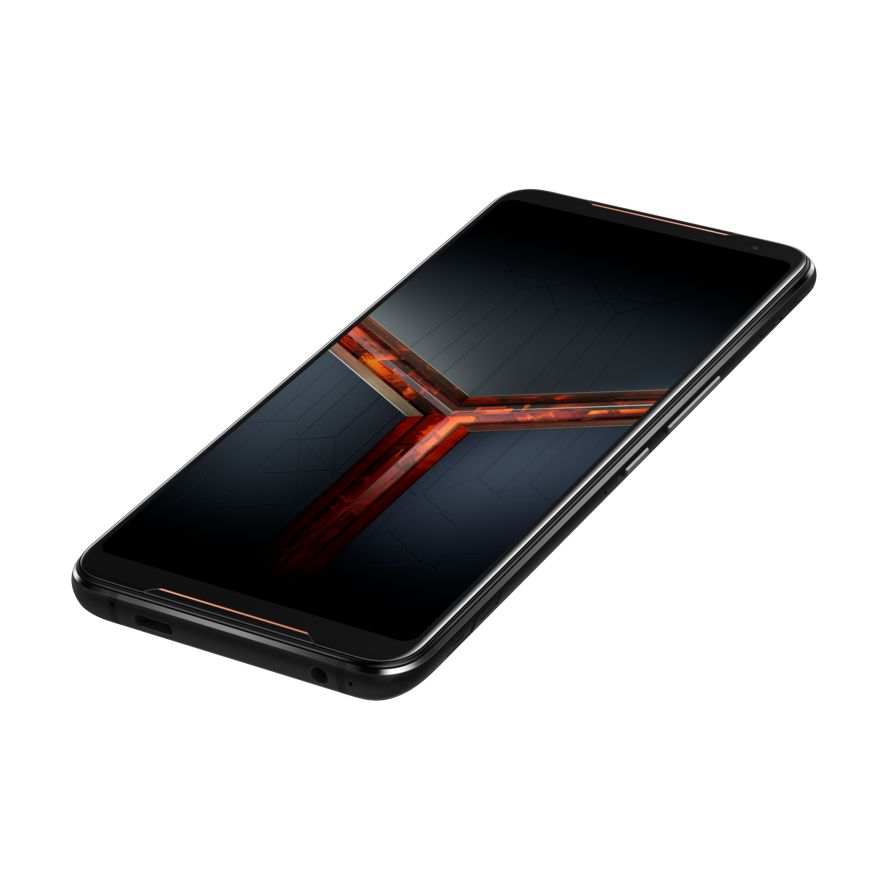 Rinnovata è la gamma di accessori, come ad esempio il TwinView Dock II e il gamepad ROG Kunai fanno si che ASUS ROG Phone II diventi una vera e propria console portatile. TwinView Dock II è un display ausiliario AMOLED FHD+ (2340×1080) da 6.59″, ideale per live streaming o chat di gruppo. Un'altro gadget interresante presente  con ASUS ROG Phone II è l'AeroActive Cooler, una ventolina esterna in grado di erogare un maggior flusso d'aria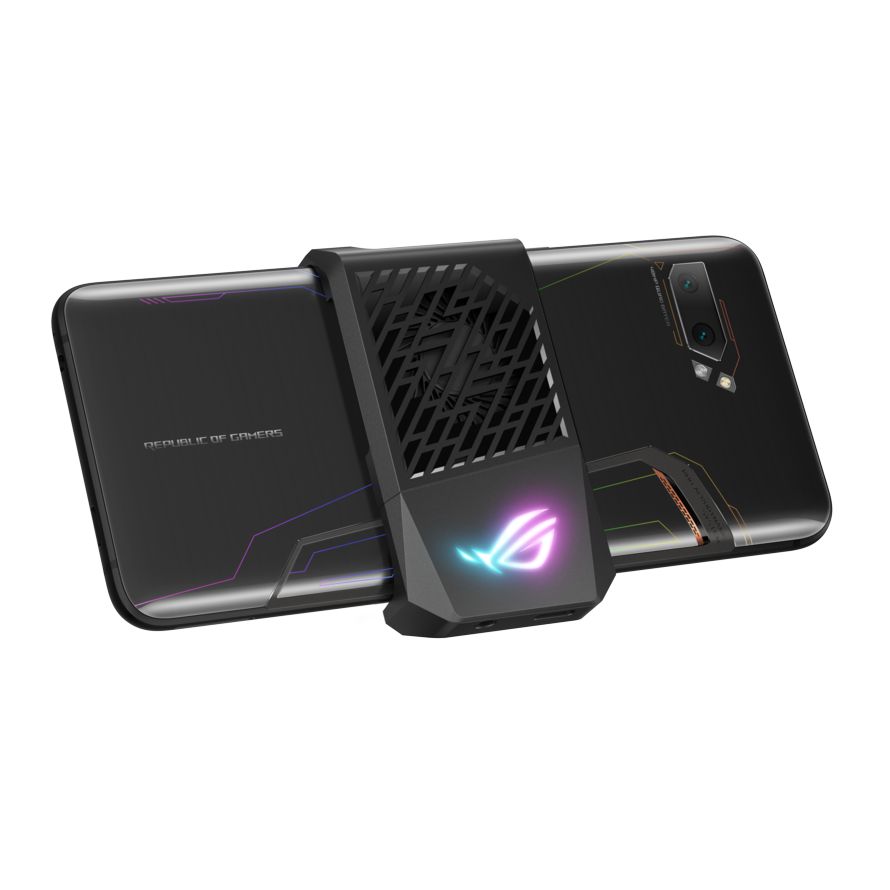 Per offrire una completa esperienza a 360 ° in game, ASUS ha stretto una partnership con varie Software House come Blazing Games Inc., Capcom®, Gameloft, MADFINGER Games e Pixelbitem in tal modo che vi siano videogiochi ben ottimizzati per l'ecosistema hardware di ASUS ROG Phone II.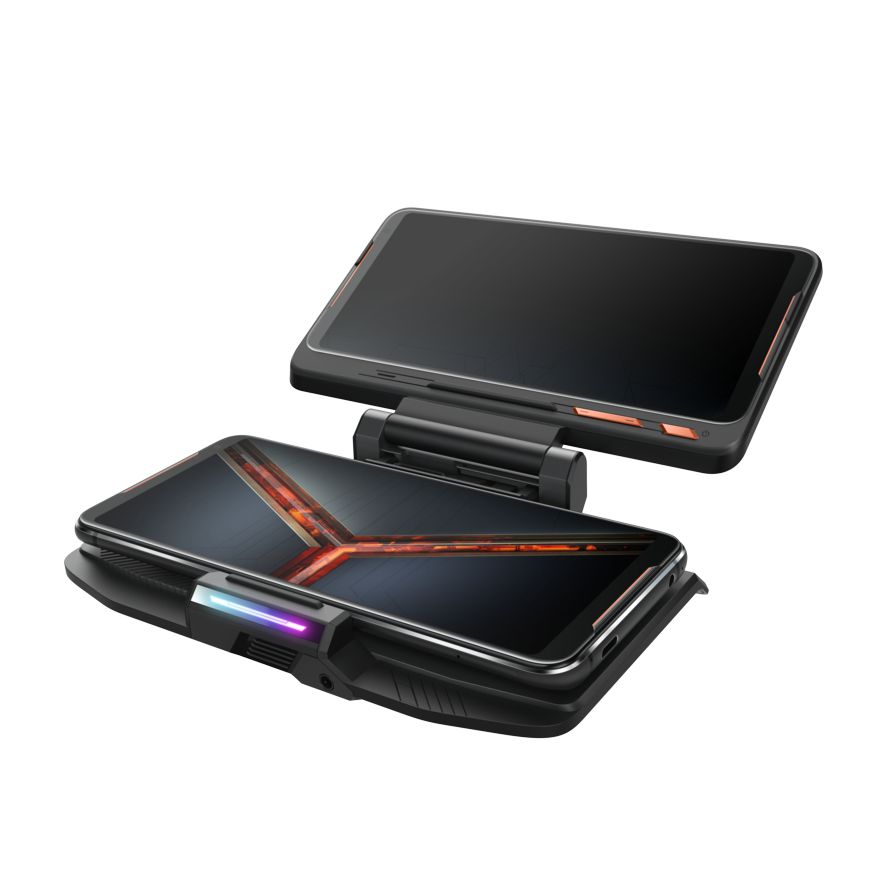 Specifiche tecniche :
Processore: Qualcomm® Snapdragon™ 855 Plus Mobile Platform a 2.96GHz, con 7nm e processore octa-core a 64-bit
GPU: Qualcomm® Adreno™ 640
Interfaccia utente: Interfaccia utenteAndroid™ Pie™ con la nuova ROG UI
Display: AMOLED FHD 19:9 6.59″, 120 Hz, HDR 10-bit.
Supporto display: Delta E<1, DCI-P3, Corning® Gorilla® 6 Glass, filtro luce blu, Supporto Always On.
Luminosità display: 600 nits
Dimensioni: 170.99 x 77.6 x 9.48 mm
Peso: 240 grammi
Batteria: 6000 mAh
Memoria RAM: 12GB LPDDR4X
Storage: Elite version: UFS 3.0 da 512GB; Ultimate Edition: UFS 3.0 da 1TB
Sensori: Sensore di impronte integrato nello schermo, riconoscimento facciale, accelerometro, bussola elettronica, giroscopio, sensore di prossimità, sensore ad effetto Hall, sensore luce ambientale, 2 sensori ultra-reattivi AirTrigger, sistema doppio di vibrazioni.
Tecnologia Wireless:
• Modem LTE Qualcomm® Snapdragon™ X24 integrato
• 4G LTE con velocità di download fino a 1.2Gbps (Elite version) / 4G LTE (Cat. 20) con velocità di download fino a 2Gpbs (Ultimate Edition)
• Qualcomm Wi-Fi 802.11a/b/g/n/ac
• wi-fi Direct
• Supporto display wireless WiGig® (Wi-Fi 802.11ad/60GHz)
• MIMO 2×2
Bluetooth: Bluetooth® 5.0 (EDR + A2DP), supporto Qualcomm® aptX™, aptX HD e aptX Adaptive
GPS: Supporto GPS(L1+L5), GLO, BDS, GAL(E1+E5a), QZSS(L1+L5).
Porte I/O laterale: Custom USB-C™, Supporta USB 3.1 Gen 1 / DP 1.4 (4K) / fast charging (PD 3.0) (30W), ROG HyperCharge a carica diretta
Porte I/O inferiore: USB-C™, Supporta USB 2.0 / carica veloce (PD3.0) (30W) / carica diretta, Jack per cuffie da 3,5 mm
Camera frontale: 24MP
Camera principale: 48MP + 13MP (grandangolare 125°)
Voice Wakeup: si
Speaker: Doppi altoparlanti stereo frontali con tecnologia DTS:X Ultra, Altoparlanti stereo con duplice smart amplifier NXP TFA9874 per un effetto sonoro più forte, profondo e con meno distorsioni
NFC: si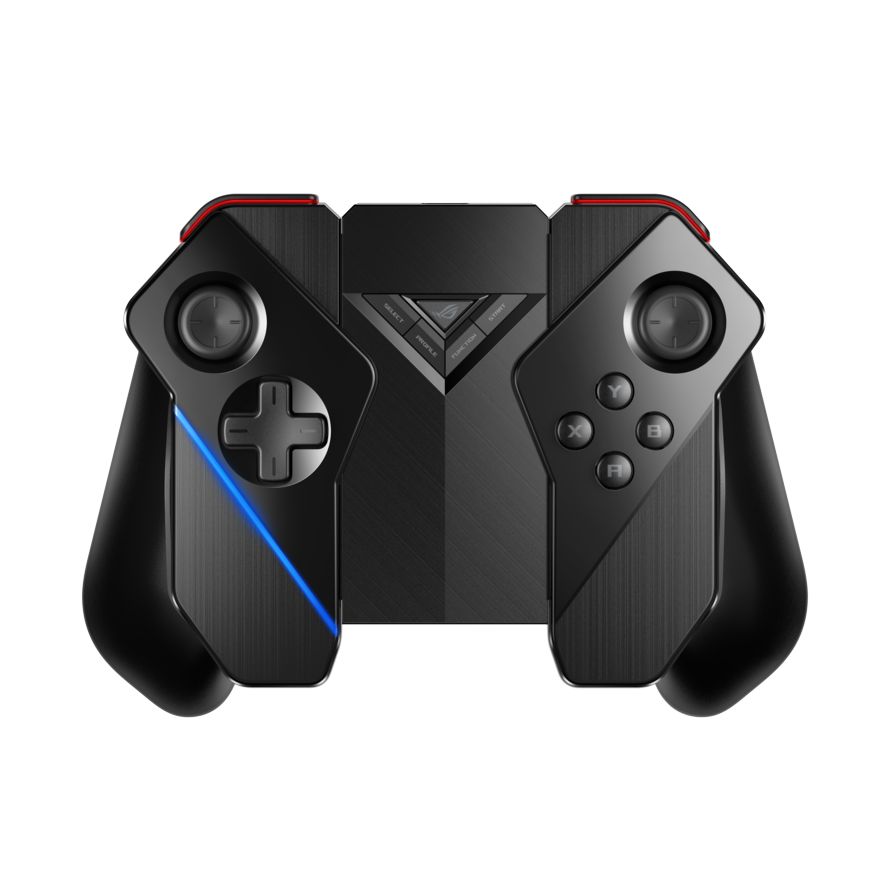 I giochi supportati nativamente sono presenti nella seguente tabella:
Categoria gioco
Nome gioco
FPS
Azione
Ace Force: Joint Combat
120fps
Simulazione
Airline Commander - a real flight
experience
120fps
Arcade
Alto's Adventure
120fps
Arcade
Alto's Oddysey
120fps
Shooter
Armajet
120fps
Giochi di ruolo
Assassins Creed Rebellion
120fps
Strategia
Auto Chess
120fps
Strategia
Badland Brawl
120fps
Puzzle
Ballz
120fps
Avventura
Batman: The Enemy Within
120fps
Shooter
Battlelands Royale
120fps
Azione
Bendy in Nightmare Run
120fps
Giochi di ruolo
Blade Bound: Hack and Slash of
Darkness Action RPG
120fps
Corse
Breakneck
120fps
Azione
Bullet Force
120fps
Azione
Bullet League
120fps
Puzzle
Card Thief
120fps
Azione
CATS: Crash Arena Turbo Stars
120fps
Arcade
Chicken Jump
120fps
Arcade
Chilly Snow
120fps
FPS
Cover Fire
120fps
Corsa
CSR Racing 2
120fps
FPS
Dead Target - Offline Zombie Shooter
120fps
FPS
Dead Trigger 2
120fps
Simulazione
Deer Hunter 2018
120fps
Puzzle
Deus Ex Go
120fps
Simulazione
Dokdo
120fps
Arcade
Dub Dash
120fps
Giochi di ruolo
Durango: Wild lands
120fps
Simulazione
Epic Battle Simulator
120fps
Simulazione
Epic Battle Simulator 2
120fps
Giochi di ruolo
Eternium
120fps
Puzzle
Flaming Core
120fps
Battle Royale
Frag Pro Shooter
120fps
FPS
FZ9 Timeshift
120fps
Corse
Gear.Club - True Racing
120fps
Sport
Golf Clash
120fps
Azione
Grimvalor
120fps
Musica
Groove Coaster 2
120fps
Simulazione
Grow Kingdom
120fps
Arcade
Hill Climb 2
120fps
Puzzle
Hitman Go
120fps
Azione
Injustice 2
120fps
Azione
Into the Dead
120fps
Strategia
King Of Sails : Royal Navy
120fps
Puzzle
Lara Croft Go
120fps
Azione
Lara Croft: Relic Run
120fps
Giochi di ruolo
Legendary: Game of Heroes
120fps
Puzzle
Lemmings - Puzzle Adventure
120fps
Giochi di ruolo
Man or Vampire
120fps
Combattimento
Marvel Contest of Champions
120fps
FPS
MaskGun Multiplayer FPS
120fps
Arcade
Minecraft
120fps
Azione
Mini DAYZ: Zombie Survival
120fps
FPS
Modern OPS
120fps
Combattimento
Mortal Kombat
120fps
Battle royale
Nonstop Knight 2
120fps
Platform
Oddmar
120fps
Arcade
Pac-Man
120fps
Arcade
Pac-Man 256
120fps
Puzzle
PAC-MAN Pop
120fps
Arcade
Perfect Slices
120fps
Casual
Pinout
70fps
FPS
Pixel Gun 3D
120fps
Simulazione
Plague Inc
120fps
Avventura
Rayman Adventures
120fps
Corse
Real Racing 3
120fps
Simulazione
Rebel Inc
120fps
Corse
Riptide GP: Renegade
120fps
Azione
Robot Warfare
100fps
Arcade
Rocket Sky
120fps
Arcade
Sandballs
120fps
Azione
Shadow Fight 2
120fps
Arcade
Shadow Fight 3
120fps
Puzzle
Shadowmatic
120fps
Azione
Shining Force Classics
120fps
Simulatore
SimCity BuildIt
70fps
Combattimento
Skullgirls
120fps
Arcade
Sky Force Reloaded
120fps
Arcade
Sonic the Hedgehog Classic
120fps
Azione
Soul Knight
120fps
Simulazione
Space Armada: Galaxy Wars
120fps
Strategia
Space Commander
120fps
Shooter
Space Jet: Space ships galaxy game
120fps
Azione
Star Forces: Space Shooter
70fps
Strategia
Stick War: Legacy
120fps
Combattimento
Streets of Rage 2 Classic
120fps
Space Sim
Subdivision Infinity
120fps
Arcade
Subway Surfers
120fps
Giochi di ruolo
Summoners War
120fps
Azione
Temple Run 2
120fps
Giochi di ruolo
The Walking Dead: Road to Survival
120fps
Puzzle
Tiny Room Stories: Town Mystery 1
120fps
Puzzle
Toon Blast
120fps
Corse
Traffic Rider
120fps
Arcade
Trials Frontier
120fps
FPS
UNKILLED - Zombie FPS Shooting 1
120fps
MOBA
Vainglory
120fps
Giochi di ruolo
WWE: Champions 2019
120fps
Arcade
Zen Pinball
100fps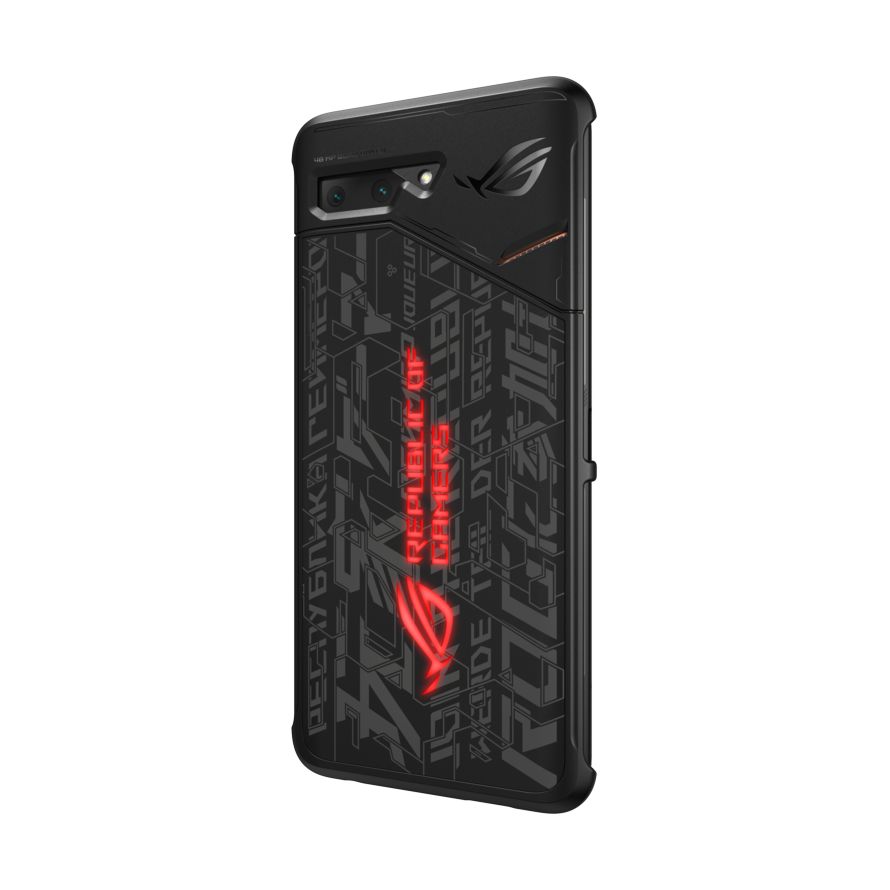 ASUS ROG Phone II Ultimate version sarà disponibile a inizio ottobre su ASUS eShop ad un prezzo consigliato al pubblico pari a 1.199 euro. ASUS ROG Phone II Elite version sarà in vendita da fine settembre presso gli ASUS Gold Store e – in anteprima retail – presso Unieuro, ad un prezzo consigliato al pubblico di 899,00 euro.
Ti è piaciuto quello che hai letto? Vuoi mettere le mani su giochi in anteprima, partecipare a eventi esclusivi e scrivere su quello che ti appasiona? Unisciti al nostro staff!
Clicca qui
e vieni a far parte della nostra squadra!