Bethesda ha annunciato per la prima volta The Elder Scrolls VI nel 2018, ma anche allora era chiaro che il gioco sarebbe stato molto, molto lontano dall'uscita. In questo momento, Bethesda è, ovviamente concentrata su Starfield, il che significa che il nuovo titolo di The Elder Scrolls sarà distante almeno diversi anni. Ora, tuttavia, potremmo avere un'idea di quanti anni.
Il noto insider di Bethesda SKULLZI è recentemente andato su Twitter per rilasciare nuovi dettagli sul gioco che apparentemente hanno sentito da "una fonte anonima credibile". A quanto pare, il gioco di ruolo open world è ora entrato nel pieno dello sviluppo, anche se è ancora nelle prime fasi, il che non sorprende. Nel gennaio dello scorso anno, il regista Todd Howard ha affermato che il titolo era ancora nella "fase di progettazione" in quel momento, mentre all'inizio di quest'anno è stato riferito che forse era ancora in pre-produzione. Sulla base di queste nuove informazioni, tuttavia, The Elder Scrolls VI punta attualmente a un lancio nel 2025 o nel 2026, anche se ovviamente piani possono sempre cambiare, soprattutto nel settore dei videogiochi quando sono così lontani nel futuro.

– Betrayals, marriage and factions matter in TES VI
– No dragons in TES VI
– TES VI in full dev, early stages
– Target release is 2025-26
– BGS Austin and Montreal working on Spyteam
– Mando MMO at Zenimax Online
– Quake reboot in talks
– TES and Fallout remasters via inXile

— SKULLZI 💀🎮 (@SkullziTV) April 26, 2022
SKULLZI  ha anche menzionato che il gioco è ambientato ad Hammerfell. Interessante notare che l'informazione sull'ambientazione del gioco sia già nota dal 2018. Sembra inoltre che il titolo avrà un sistema politico, con tradimenti, matrimoni, fazioni che contano davvero e che non ci siano draghi. Viene anche menzionato che le remaster di The Elder Scrolls e Fallout sono in lavorazione presso lo sviluppatore di Wasteland inXile Entertainment (che è attualmente al lavoro su un nuovo gioco di ruolo FPS), che un MMORPG basato su The Mandalorian è in lavorazione presso ZeniMax Online (che è noto per essere al lavoro su un nuovo gioco AAA), che un gioco PvPvE che "potrebbe sorprenderti" è in fase di sviluppo presso Roundhouse Studios e che anche un riavvio di Quake è in discussione internamente a Bethesda.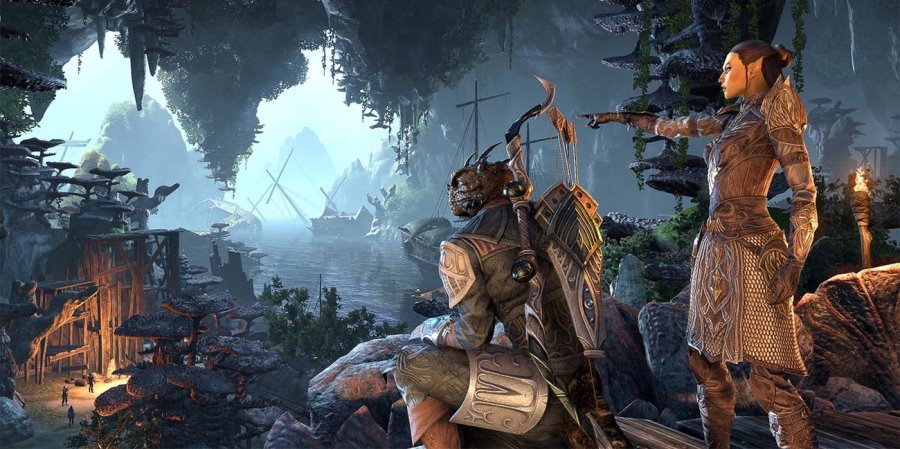 Anche il co-fondatore di XboxEra Nick Baker – un altro noto insider con un discreto track record – si è rivolto anche a Twitter per confermare buona parte del leak, affermado di aver sentito più o meno lo stesso di The Elder Scrolls VI (con l'eccezione dell'informazione sui draghi) e sulle remastered.
If it helps, Skullzi's ES6 info aligns *almost* perfectly with everything I've been told about it. Except the dragon stuff. That hasn't been mentioned to me.

Also got the Remasters confirmed to me just now

Good to see others hearing about Quake Reboot and Project Wyrmwood too https://t.co/i7k617iFke

— Nick (@Shpeshal_Nick) April 27, 2022
Va da sé che tutto questo, in quanto informazione non confermata e non verificata, dovrebbe essere presa con le pinze, soprattutto considerando quante cose sono menzionate che potrebbero o meno rivelarsi vere. Ci sono buone probabilità che molti di questi dettagli, se accurati, non verranno alla luce in entrambi i casi, specialmente per quanto riguarda The Elder Scrolls VI, che è ancora lontano anni dall'uscita.