A partire da mercoledì 1 giugno è in arrivo una nuova serie podcast in cui un cast unico guidato da Francesco Lancia si lancerà nel gioco di ruolo più famoso del mondo: Dungeons & Dragons. Wizards of the Coast e Radio Deejay sono lieti di presentare una nuova serie podcast intitolata "Dungeons & Deejay" di OnePodcast, piattaforma dedicata al rivoluzionario mondo audio, ispirata al gioco di ruolo più famoso del mondo, Dungeons & Dragons, che prenderà il via dal 1 giugno e sarà composta di 8 episodi su base settimanale.
Dungeons & Deejay vedrà protagonista un gruppo di avventurieri unico, che giocheranno l'incredibile avventura "Il Drago del Picco Gugliaghiacciata", che fa parte del Kit Essenziale di D&D, nel corso di 8 episodi, tra epiche battaglie e un mare di risate. A guidare il cast troviamo Victoria Cabello, Matteo Curti, Brenda Lodigiani e Rocco Tanica, ci sarà il Dungeon Master Francesco Lancia, popolare autore e voce di Radio Deejay. Francesco ha commentato: "Da sempre cerco di convincere gli altri di quanto il gioco sia fondamentale nella vita di ogni essere umano, indipendentemente dall'età. Per questo sono stato felicissimo e onorato di aver convinto 4 celebrità a sedersi attorno a un tavolo per farsi guidare da me, nella loro prima imperdibile partita a Dungeons & Dragons. Neanche io ho la minima idea di che cosa accadrà in questo podcast, ma so che sarà un viaggio esilarante, stupendo e incredibilmente divertente.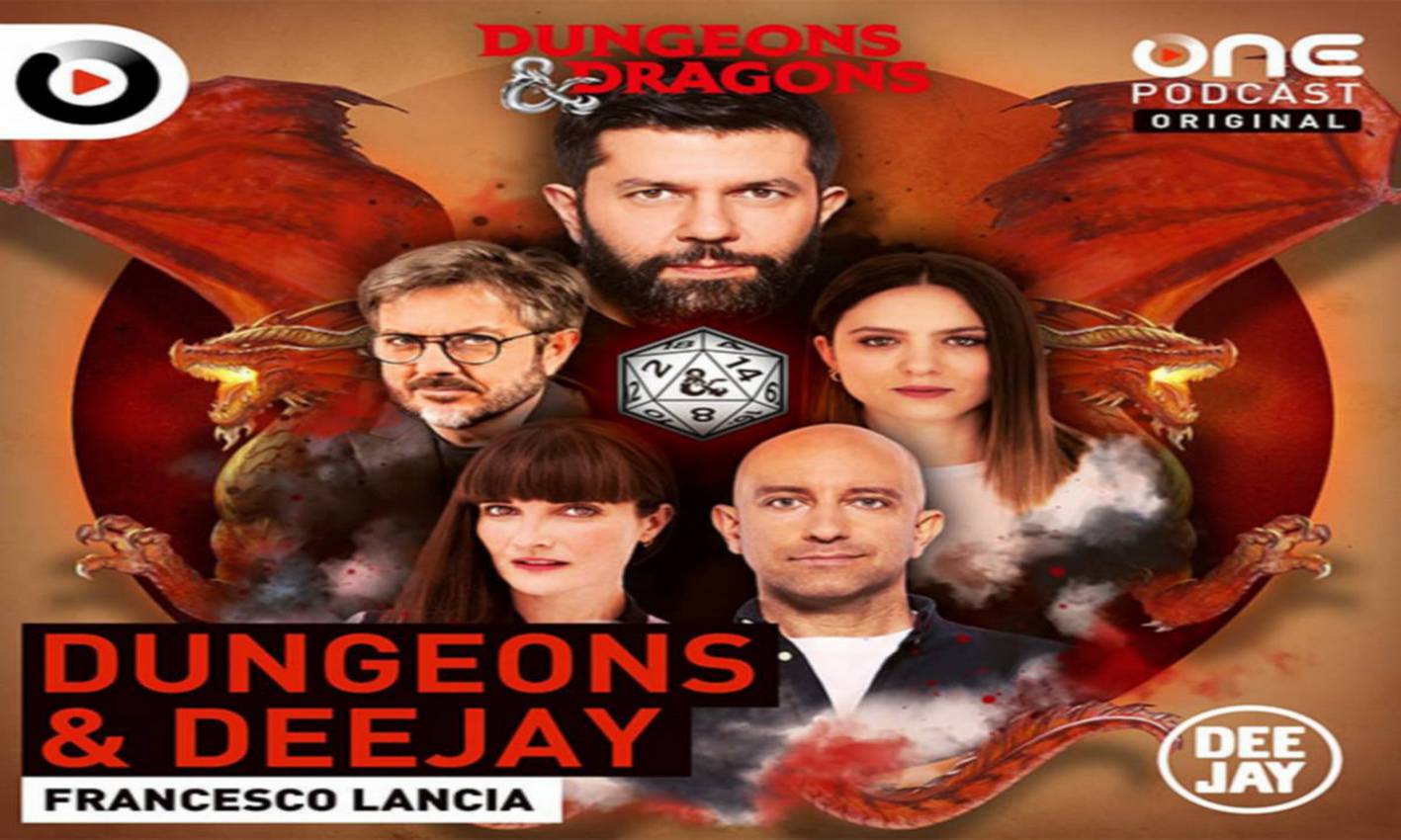 … Siete pronti a partire con me?"
Marco Caputo, Brand Manager (IT) per Dungeons & Dragons in Wizards of the Coast ha dichiarato: "Siamo entusiasti di cominciare questa strepitosa avventura che vedrà Francesco come Dungeon Master d'eccezione e un party di 4 artisti che non hanno bisogno di presentazioni, il tutto nella casa del divertimento per antonomasia che è Radio Deejay. Il divertimento è assicurato, e sono davvero curioso di vedere come se la caverà il nostro gruppo di avventurieri!"
Vi ricordiamo che il podcast sarà disponibile sull'App OnePodcast, sul network di Radio Deejay e sulle principali piattaforme partner Spotify, Apple Podcast e Amazon Music, con un nuovo episodio ogni settimana.