SCEA ha rivelato la lista completa dei 41 brani che verranno inclusi in Rock Band Unplugged, titolo della serie in esclusiva PSP, di seguito l'elenco completo diviso per periodo storico:
2000s
AFI – "Miss Murder"
All-American Rejects – "Move Along"
Audioslave – "Gasoline"
Black Tide – "Show Me the Way"
Freezepop – "Less Talk More Rokk"
Jimmy Eat World – "The Middle"
The Killers – "Mr. Brightside"
Lacuna Coil – "Our Truth"
Lamb of God – "Laid to Rest"
Modest Mouse – "Float On"
Queens of the Stone Age – "3's and 7's"
System of a Down – "Chop Suey!"
Tenacious D – "Rock Your Socks"
1990s
3 Doors Down – "Kryptonite"
Alice in Chains – "Would?"
Blink 182 – "What's My Age Again"
Foo Fighters – "Everlong"
Judas Priest – "Painkiller"
Lit – "My Own Worst Enemy"
Lush – "De-Luxe"
Mighty Mighty Bosstones – "Where'd You Go?"
Nine Inch Nails – "The Perfect Drug"
Nirvana – "Drain You"
The Offspring – "Come Out and Play (Keep 'em Separated)"
Pearl Jam – "Alive"
Smashing Pumpkins – "Today"
Social Distortion – "I Was Wrong"
Soundgarden – "Spoonman"
Weezer – "Buddy Holly"
1980s
Billy Idol – "White Wedding Part 1"
Bon Jovi – "Livin' on a Prayer"
Dead Kennedys – "Holiday in Cambodia"
Motörhead – "Ace of Spades"
The Police – "Message in a Bottle"
Siouxsie & the Banshees – "The Killing Jar"
1970s
Boston – "More Than a Feeling"
Jackson 5 – "ABC"
Jethro Tull – "Aqualung"
Kansas – "Carry on Wayward Son
Rush – "The Trees"
1960s
The Who – "Pinball Wizard"
Inoltre è stato svelato un bundle in arrivo negli States in contemporanea al lancio del gioco: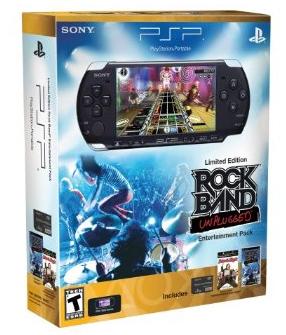 Nella confezione troveremo:
-Una PSP "Piano Black"
-Una copia di Rock Band Unplugged
-Una Memory Stick PRO Duo da 4GB
-Un codice per scaricare il film School of Rock dal PlayStation Store
Per ora il bundle non è stato annunciato in Europa, in attesa di eventuali novità vi ricordiamo che il gioco è previsto nei negozi europei a partire dal 19 Giugno.