Essendo un'avventura grafica moderna, più accostabile a un walking simulator, What Remains of Edith Finch non presenta una longevità notevole e infatti si compone di appena 10 obiettivi per essere completata al 100%.
Il titolo sviluppato da Giant Sparrow ed edito da Annapurna Interactive, del resto, fa della trama e della caratterizzazione della sua protagonista (e dei suoi familiari) i veri punti di forza di questa esperienza di gioco.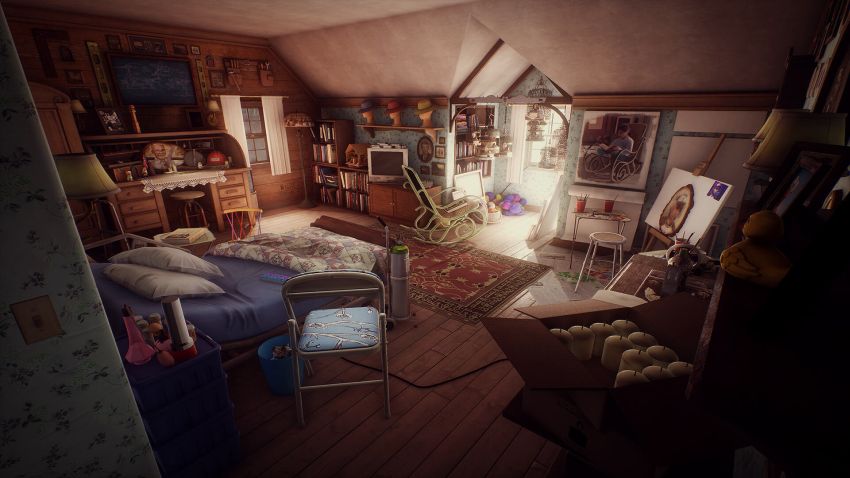 Eccoci pronti ad affrontare What Remains of Edith Finch con la lista obiettivi completa:
La fine di tutto – Finisci tutte le storie 100G
Un'occhiata più da vicino – Guarda attraverso tutti gli spioncini e telescopi abbastanza a lungo da sentire i commenti di Edith 100G
Tutte le strade – Percorri entrambi i sentieri verso la casa 100G
Grande gufo – Acchiappa 2 conigli in due soli colpi 100G
Lasciagliela finire – Lascia che il marinaio ubriaco finisca la sua canzone 100G
Libera il tavolo – Libera il tavolo da biliardo da tutte le biglie 100G
G-R-E-G-O-R-Y – Butta tutte le lettere del nome di Gregory nella vasca da bagno 100G
Grazie, Johann! – Vedi il nome di Johann nei riconoscimenti finali 100G
Gira e rigira – Gioca nuovamente la storia di Calvin 100G
Fotografo naturalista – Fai una foto al coniglio fuori del parco nazionale di Odin Finch 100G
I dieci obiettivi di questo titolo non sono difficoltosi ed è davvero difficile correre il rischio di dover effettuare una seconda run: il nostro consiglio è di prestare grande attenzione agli spioncini delle porte delle stanze nella magione della famiglia Finch e la sezione in cui si andrà a impersonare un gufo per cacciare i 2 conigli. Qualora vogliate assicurarvi di non mancare nessun obiettivo al primo playtrough, vi consigliamo l'ottima guida dello youtuber Safutobu qui segnalata.