Il Playstation Blog ha annunciato la caccia agli Easter Egg. La durata va dal 27 marzo al 9 aprile. Saranno rivelati in maniera graduale, come i 12 deals of Xmas.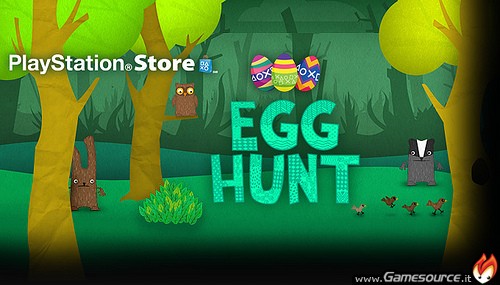 Il primo è già noto:
Easter Egg Hunt
Offer 1: Killzone & Infamous Bundle (include Killzone HD ed Infamous: Festival of Blood)
Was €19.99/£15.99 , now €12.49/£9.89
Valido fino alle 12.00pm del 29 Marzo
Collegatevi regolarmente al Playstation Blog per scoprire i prossimi.
Ma non è tutto, oltre agli sconti a tempo limitato, ci saranno quelli permanenti, per tutte le piattaforme, e con un ulteriore riduzione del 10% per gli iscritti al Plus. Ecco la lista completa:

PS3:

Babel Rising
Was €9.99/£7.99, now €3.99/£3.19
Additional 10% off for Plus subscribers
Backbreaker Vengeance
Was €14.99/£11.99, now €7.49/£5.99
Additional 10% off for Plus subscribers
Call of Juarez: Bound in Blood (Not available in Bulgaria, Hungary, Qatar)
Was €14.99/£10.99, now €7.49/£5.99
Additional 10% off for Plus subscribers
Child of Eden (Not available in Bulgaria, Hungary, Qatar)
Was €14.99/£11.99, now €4.99/£3.99
Additional 10% off for Plus subscribers
Dead Rising 2: Off The Record (Not available in Germany)
Was €14.99/£10.99, now €7.49/£5.99
Additional 10% off for Plus subscribers
Deep Black
Was €14.99/£11.99, now €7.49/£5.99
Additional 10% off for Plus subscribers
Driver: San Francisco (Not available in Bulgaria, Hungary, Qatar)
Was €14.99/£10.99, now €7.49/£5.99
Additional 10% off for Plus subscribers
Droplitz (Not available in Bulgaria, Hungary, Netherlands, Portugal, Qatar, Russia, Ukraine)
Was €9.99/£7.99, now €4.99/£3.99
Disney Epic Mickey 2: The Power of Two (Not Available in Czech Republic, Denmark, Finland, Germany, Kuwait, Norway, Poland, Qatar, Saudi Arabia, Sweden, Turkey, UAE)
Was €49.99/£33.99, now €19.99/£ 15.99
Additional 10% off for Plus subscribers
Faery: Legends of Avalon
Was €7.99/£6.49, now €3.49/£2.79
Additional 10% off for Plus subscribers
Grease
Was €21.99/£17.99, now €12.99/£9.99
Additional 10% off for Plus subscribers
Learning with the Poo-Yoos Episode 1 (Not available Bulgaria, Hungary, Portugal, Qatar, Russia, Ukraine)
Was €4.99/£3.99, now €2.99/£2.99
Additional 10% off for Plus subscribers
Learning with the Poo-Yoos Episode 2 (Not available Bulgaria, Hungary, Portugal, Qatar, Russia, Ukraine)
Was €4.99/£3.99, now €2.99/£2.99
Additional 10% off for Plus subscribers
Mad Riders
Was €9.99/£7.99, now €3.99/£3.19
Additional 10% off for Plus subscribers
Naughty Bear Episode 9: The Treasure of Bear Beard (Not available in Bulgaria, Hungary, Israel, Kuwait, Qatar, Ukraine)
Was €4.99/£3.99, now €2.49/£1.99
Additional 10% off for Plus subscribers
Naughty Bear Episode 10: The Vampiricorn (Not available in Bulgaria, Hungary, Israel, Kuwait, Qatar, Ukraine)
Was €6.99/£5.49, now €3.49/£2.79
Additional 10% off for Plus subscribers
Naughty Bear Panic in Paradise (Not Available in Australia, Germany, New Zealand)
Was €14.99/£11.99, now €7.49/£5.99
Additional 10% off for Plus subscribers
Of Orcs and Men (Not available in Turkey)
Was €59.99/£47.99, now €24.99/£19.99
Additional 10% off for Plus subscribers
Page Chronica
Was €10.99/£8.89, now €5.49/£4.49
PixelJunk 4am
Was €7.99/£6.49, now €3.99/£3.19
Additional 10% off for Plus subscribers
PixelJunk Eden
Was €7.99/£6.49, now €3.99/£3.19
Additional 10% off for Plus subscribers
PixelJunk Monsters
Was €4.99/£3.99, now €2.49/£1.99
Additional 10% off for Plus subscribers
PixelJunk Monsters Deluxe
Was €12.99/£9.99, now €6.49/£5.19
Additional 10% off for Plus subscribers
PixelJunk Racers 2nd Lap
Was €7.99/£6.49, now €3.99/£3.19
Additional 10% off for Plus subscribers
PixelJunk Shooter
Was €7.99/£6.49, now €3.99/£3.19
Additional 10% off for Plus subscribers
PixelJunk Shooter 2
Was €7.99/£6.49, now €3.99/£3.19
Additional 10% off for Plus subscribers
PixelJunk SideScroller
Was €7.99/£6.49, now €3.99/£3.19
Additional 10% off for Plus subscribers
Rayman 3
Was €9.99/£7.99, now €4.99/£3.99
Additional 10% off for Plus subscribers
Realms of Ancient War
Was €14.99/£11.99, now €3.49/£2.79
Additional 10% off for Plus subscribers
Rock of Ages
Was €7.99/£6.49. now €3.99/£3.19
Tom Clancy's Ghost Recon Future Soldier
Was €29.99/£14.99, now €14.99/£11.99
Additional 10% off for Plus subscribers
Tour de France 2012 (Not available in in Turkey)
Was €29.99/£19.99, now €14.99/£11.99
The Expendables 2: The Videogame
Was €14.99/£11.99, now €7.49/£5.99
Additional 10% off for Plus subscribers
Trine 2
Was €11.25/£8.99, now €5.49/£4.49
Disney PIXAR Toy Story Mania! (Not available in Germany)
Was €34.99/£28.49, now €14.99/£11.99
Additional 10% off for Plus subscribers
Wrecked Revenge Revisited (Not available in India, Israel, Kuwait, Saudi Arabia)
Was €11.99/£9.69, now €6.49/£5.19

PS Vita:

Urban Trial Freestyle
Was €9.99/£7.99, now €6.99/£5.49
PSP:

Fate/EXTRA (Not available in Australia, Finland, New Zealand, Norway, Ukraine)
Was €29.99/£23.99, now €12.99/£9.99
Additional 10% off for Plus subscribers
Generations of Chaos
Was €6.99/£5.49, now €2.99/£2.39
Additional 10% off for Plus subscribers
The Legend of Heroes: Trails in the Sky
Was €29.99/£23.99, now €14.99/£11.99
Additional 10% off for Plus subscribers
Persona (Not available in Austria, Bulgaria, Germany, Hungary, Qatar, Russia, Saudi Arabia, South Africa, Ukraine, UAE)
Was €9.99/£7.99, now €4.99/£3.99
Persona 2/Persona 3 Portable bundle
Was €49.99/£39.99, now €24.99/£19.99
Additional 10% off for Plus subscribers
Persona 2
Was €29.99/£23.99, now €14.99/£11.99
Additional 10% off for Plus subscribers
Persona 3
Was €29.99/£23.99, now €14.99/£11.99
Additional 10% off for Plus subscribers
Disney Pixar Double Pack (Not available in Denmark, Finland, Norway, Poland, Russia, Sweden, Ukraine)
Was €14.99/£11.99, now €6.99/£5.49
Additional 10% off for Plus subscribers
Pirates Double Pack (Not available in Russia, Ukraine)
Was €11.99/£9.69, now €5.99/£4.79
Additional 10% off for Plus subscribers
PlayStation 2:

A Train 6
Was €9.99/£7.99, now €4.99/£3.99
Additional 10% off for Plus subscribers
Disney Princess Enchanted Journey
Was €9.99/£7.99, now €4.49/£3.69
Additional 10% off for Plus subscribers
Disney's Donald Duck PS2 Double Pack
Was €14.99/£11.99, now €6.99/£5.49
Additional 10% off for Plus subscribers
Golden Age of Racing (Not available in Belgium, Netherlands, Russia, Ukraine)
Was €4.99/£3.99, now €1.99/£1.59
Additional 10% off for Plus subscribers
Operation Air Assault (Not available in Belgium, Netherlands, Russia, Ukraine)
Was €4.99/£3.99, now €1.99/£1.59
Additional 10% off for Plus subscribers
Peter Pan Double Pack
Was €10.99/£8.89, now €5.49/£4.49
Additional 10% off for Plus subscribers
Steel Dragon EX (Not available in Belgium, Netherlands, Russia, Ukraine)
Was €4.99/£3.99, now €1.99/£1.59
PSOne:

Disney's A Bugs Life and Monsters Inc (Not available in Bulgaria, Hungary, Qatar)
Was €6.99/£5.49, now €3.49/£2.79
Additional 10% off for Plus subscribers
All-Star Boxing (Not available in Bulgaria, Hungary, Israel, Kuwait, Qatar, Ukraine)
Was €4.99/£3.99, now €1.99/£1.59
Additional 10% off for Plus subscribers
Disney's Hercules and Disney's Atlantis (Not available Bulgaria, Hungary, Qatar)
Was €9.99/£7.99, now €4.49/£3.69
Additional 10% off for Plus subscribers
Disney's Little Mermaid 2 and Party Time with Winnie the Pooh (Not available in Bulgaria, France, Hungary, Qatar)
Was €7.99/£6.49; now €3.59/£2.99
Additional 10% off for Plus subscribers
Mickey's Wild Adventure
Was €5.99/£4.79, now €2.99/£2.39
Additional 10% off for Plus subscribers
Sports Superbike 2 (Not available in Bulgaria, Germany, Hungary, Israel, Kuwait, Qatar, Ukraine)
Was €2.99/£2.39; now €1.49/£1.19
Additional 10% off for Plus subscribers
Disney Pixar Toy Story 2 and Toy Story Racer (Not available in Bulgaria, France, Hungary, Qatar)
Was €9.99/£7.99, now €4.49/£3.69
Additional 10% off for Plus subscribers

Minis:

Ace Armstrong/Stellar Attack Bundle
Was €4.99/£3.99, now €1.99/£1.74
Fighting Fantasy: Talisman and Warlock pack
Was €4.99/£3.99, now €1.99/£1.74
Additional 10% off for Plus subscribers

DLC:

Was €9.99/£7.99, now €4.99/£3.99
Additional 10% off for Plus subscribers
Ghost Recon Future Soldier
Was €14.99/£11.99, now €7.49/£5.99
Additional 10% off for Plus subscribers
Game of Thrones: Beyond the Wall – Blood Bound (Not available in Austria, Germany, Poland, Russia, Switzerland, Turkey, Ukraine)
Was €4.99/£3.99, now €2.49/£1.99
Additional 10% off for Plus subscribers
Game of Thrones – Dog Skin Pack (Not available in Austria, Germany, New Zealand, Poland, Russia, Switzerland, Turkey, Ukraine)
Was €0.99/£0.79, now €0.49/£0.40
Additional 10% off for Plus subscribers
Game of Thrones – Valar Morghulis Pack (Not available in Austria, Germany, Poland, Russia, Switzerland, Turkey, Ukraine)
Was €2.99/£1.39, now €2.39/£1.15
Additional 10% off for Plus subscribers
IL2 Sturmovik: Birds of Prey mission pack (Not available in Bulgaria, Croatia, Hungary, India, Israel, Kuwait, Qatar, Slovenia, Turkey, Ukraine)
Was €9.99/£7.99, now €4.99/£3.99
Additional 10% off for Plus subscribers
Snipe Elite V2 – Assassinate The Führer (Not available in Austria, Germany)
Was €9.99/£7.99, now €5.49/£4.49
Additional 10% off for Plus subscribers